Looking for artificial grass design ideas for your garden? This article looks at real-life examples of how LazyLawn has been used in gardens to transform an outside space. So you can get design ideas and inspiration for your artificial grass installation project and enhance your garden.
1. This garden uses different textures and elements which each add a new dimension to the space. The wood decking makes the outdoor space an extension of the indoor space. The pathway creates balance and symmetry. Lighting along the path adds atmosphere and guides to the sheltered area as a focal point. Brick and stone edging with jagged lines add character and interest. Finally, artificial grass adds a burst of colour and natural warmth to create a stylish, modern space.
2. This design contrasts the vibrant green grass with the black border fencing to make the garden feel intimate without feeling too small. It opens the space like a luscious green carpet to give a truly luxurious feel. The grass stands out against the striking and daring black background to create a statement space for both relaxing and entertaining.
3. This design is playful with its artificial grass edging and adds interest with curved, sweeping lines. It adds texture and colour with stunning planted borders and flowerbeds. The lawn looks just as green and vibrant as the real shrubs and bushes demonstrating just how natural artificial grass looks. The curved edges combined with a variety of natural plants and flora create an elegant and beautiful garden.
4. This garden design uses a rustic resin pathway to break up the large artificial grass lawn and add character to the space. The path leads to a beautiful pergola which makes the perfect shady escape in which to relax, entertain, and dine. Both the realistic-looking green lawn and wooden structures work together to create an inviting and homely environment.
5. This garden plays with heights to create zones. The decking sits at a lower level and is a great area for entertaining, with a heavy stone table that makes a statement. The white wall creates different sections and adds structure to the space. The artificial grass sits high and adds a flourish of green to brighten up the garden. With sleek lines and natural textures, the design is simple with a minimalist and modern feel.
6. This is a large, elegant garden. Artificial grass is a great choice for the space, as it can be difficult to maintain a big garden like this and so artificial grass makes it much easier to keep the space looking neat and tidy and in mint condition without the need for mowing or stress. The water feature adds a stunning focal point and creates a sense of tranquility to this sophisticated space.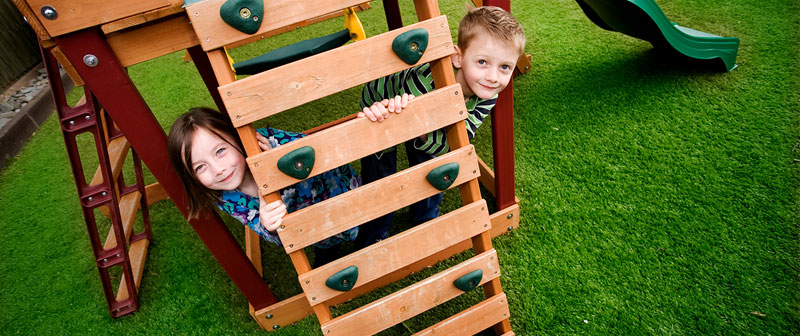 7. Artificial turf makes the perfect play surface for kids. It's soft underfoot and provides cushioning from falls. It's also mud-free, robust, durable, and withstands wear and tear and pressure from apparatus. So turn your garden into a kids' playground that your little ones will enjoy running around in.
8. This design uses delicate decorative elements like potted plants and sculptures to create a variety of different focal points without overwhelming the space. The grass is laid in a carefully arranged pattern alongside the light and bright paving slabs which perfectly contrasts different surfaces and keeps the garden exciting.
9. This small garden uses artificial grass to make the area feel bigger. It uses sleek stone wall edging, box hedging, and chic wooden panelling to perfectly frame the lawn and adds a modern seating area that looks out onto the gorgeous green open space. The design thoughtfully uses colours that perfectly complement each other – white, green, grey, and a pop of purple from the plants.
10. This is a delicate, careful design with a mediterranean feel. Curves and circles add interest and create focal points. Using white gravel and rustic paving slabs as edging brighten the space. Small details like driftwood and round stones add texture. Palm trees are a must to add a warm, tropical vibe. The artificial grass adds a burst of green which contrasts with the white stone. All elements come together to create a stand-out garden that is relaxing and summery.
Contact us today for more design tips on how to improve your garden and check out our gallery for more inspiration for how you can use artificial grass to enhance your outdoor space. And always feel free to send us your images – we'd love to see how you've used LazyLawn in your garden!